I am trapped inside this moment…
If the post titles don't make a lot of sense its probably because they're song lyrics… This one is from Set Your Goals, I caught them at the Manning Bar on Tuesday night and again last night with best bud Mel! Tuesday was probably the better show, they played a couple of new tracks and were sounding pretty good. Not the tightest band going but for what they lack they completely make up for with the party attitude.
Speaking of Mel, I was cleaning up my CD shelf (mainly to make room for another 50-odd records that I have amassed over the past couple months) and came across some killer mix-CDs she made for me way back when… these mixes have introduced me to many an awesome band and I'm excited to have found them again. Check the pic for tracklisting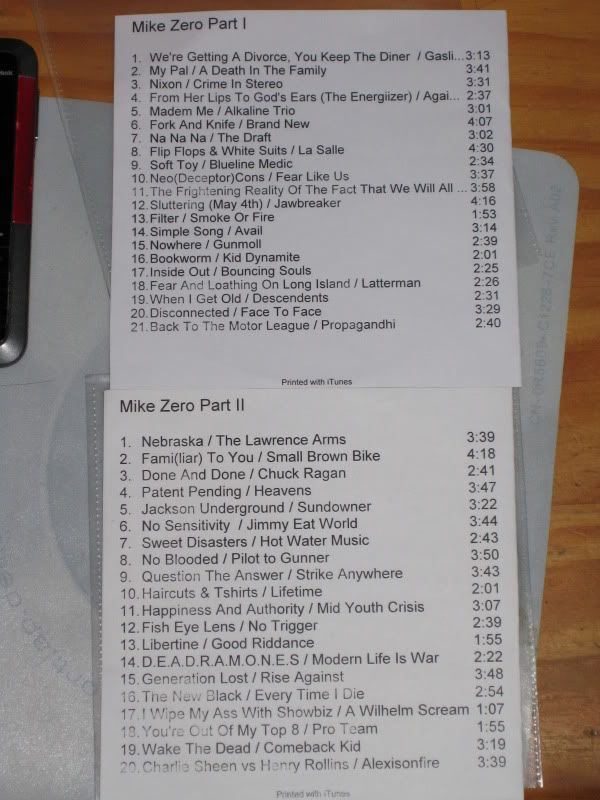 On another note, the other week one of my stores was trying to score some free tickets to Hilltop Hoods or something like that. Long story short I managed to hook it up for them so I was told to keep an eye on the post because I had a present coming my way. Check it:
So the store is from Alice Springs, making it a little less random… but still, gave me a great laugh and will be getting a weekly workout come Friday arvo beers (you can see here a lovely Carlton Crown modelling the latest in stubby-holding fashion).
annnnnd now to another trip update… well there's not really anything to update on. 12 Days to go!
Written on June 6, 2009