In Singapore…
Finally got to a net cafe to upload some pics. You better enjoy them, took me forever to work it all out.
Yesterday woke up at stupid-o'clock to be at the airport for a 6am check-in. Mum was pretty funny, she seemed pretty upset that I was going and I only just found out that she had no idea I was gone for 2 months till about a week ago. Oops.
So I flew with Singapore Airlines, flight went pretty quick with about 100 TV channels to choose from, and you can even rewind, pause and fast forward the movies… No more waiting for the movie to start again if you missed the beginning. Flying on the A380 tomorrow, that should be pretty cool.
Got into Singapore about 2:30 and damn was it hot. Particularly humid too. Caught 3 trains and got lost on my walk to the hostel but all good.
Having no real idea what there is to do here I went for a walk to see what was around and first impressions I thought this place was a bit of a hole, pretty stinky and delapidated in certain areas… Was kinda not too keen to be spending a full day here today before the flight.
So came back to the hostel, watched Mission Impossible 2 and then went up to the room to try and sleep, but some twat decided it would be a great idea to have his phone at full volume and see which ringtone on his phone sounded best. He had a bit of trouble deciding, cycling through the choices at least 2 or 3 times. Ahhh the joys of sharing rooms 🙂
This morning I bought an unlimited train pass and just decided to go checking out whatever. First place I went to was Sentosa Island, it's almost like a theme park, but kinda not… Theres a few rides and attractions that you pay for, but there's also plenty of cool stuff to see for free. As soon as I got there I was wishing I brought my boardies in my daypack, some pretty nice beaches, and check me out with a slurpee in this picture… Yeh you're thinking that last place didn't look real impressive, but that's the southern-most point of Continental Asia… Actually you'd be right, it wasn't very impressive.
Here are some more pics of Sentosa Island and even a slam-dunking monkey!!! Lunch was a plate of spastically awesome satay skewers (yes, I took a photo of my lunch), after which I made tracks for the giant **Merlion. Yes, half mermaid/half lion. I'm guessing he's like the Singaporean Godzilla or something. I want.
Here's a couple of pictures inserted into the post to break up the text a little (ok, well imagine they are here until I can find a net cafe that can handle me uploading pictures):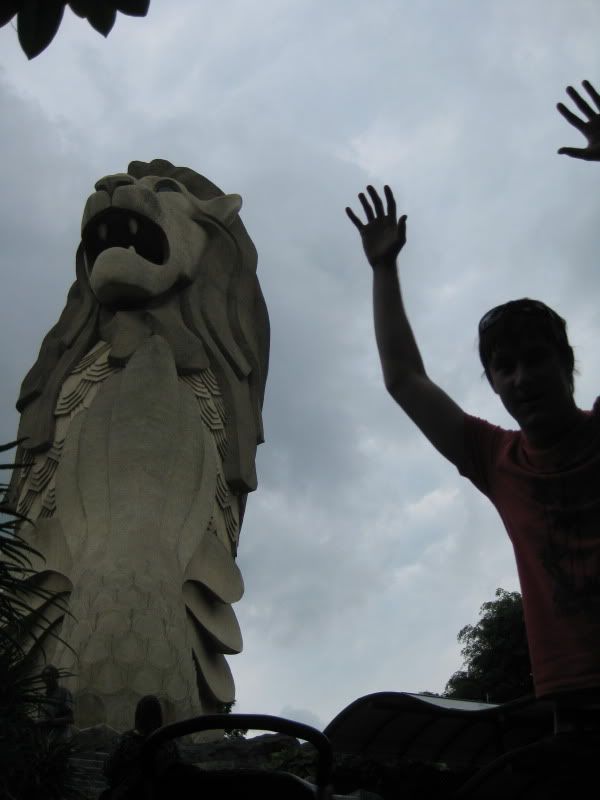 So yeh, Sentosa was perty cool, then I moved on to Clarke Quay, it's this little European style area with old boats and stuff running up the river. Nothing particularly special there, but it **looked cool.
Despite the insane heat and humidity, and being in posession of an unlimited travel card, retardo me decided it would be more fun to see Singapore by foot. All this walking had me working up one hell of a sweat and an insane thirst. So how does one revitalise the body? With the sweat of Pocari.
With renewed energy thanks to the Pocari, I headed for the shopping district of Orchard Rd. I walked into a shopping centre and thought "yeh this place is pretty big, but it's just like any shopping center"… Feeling a little let down that this crappy little shopping centre was all this famous district had to offer I went for a stroll and came across another, and another, and another, and another, and another, and I think you get the idea… It turned out to be a really nice place (especially in the cool air conditioning). Didn't end up buying anything other than more drinks and (shock horror!) a book.
Flying out to London tonight, 11:30pm (it's about 7:40 now). Catching up with Drew, Ash and Ellen tomorrow!!!
Written on June 20, 2009