C, eh? N, eh? D, eh?
Arrived in Quebec last night and I think I already have a new favourite city. This place is awesome.
Anyway, I should start from where I left off from the last proper blog. Last day in Rome I headed up to St Peter's Basilica, been told there's an awesome view from the top of the spire and they were so right. Also saw some of the Swiss Guards protecting the Vatican, and I think they prove that even the pope has a sense of humour.
It also turned out to be a ridiculously hot day so I went with some Swedish dudes and a Victorian chick down to the beach. Not the nicest of beaches, but on a day like that any water was welcome.
Next day went to Paris and did all the touristy things… Saw the Arc De Triomphe, Eiffel Tower, Notre Damn, The Louvre, Moulin Rouge, all that kinda stuff. Paris was nice, great weather and all that and it went by way too quick (as I guess it would anyway when you only have a day and a half to see it all). I must have walked the whole city about 3 times in the short space I was there…
So after my whirlwhind visit through Paris and $350 spent on flights (from the 'budget' airline EasyJet, no less) I went up to Scotland, Edinburgh in particular, to go hang with Ellen for a couple days. Was good to be back with someone familiar. Weather was awesome and we mostly just chilled out for the 2 days I was up there. Saw Edinburgh castle, walked up some hill with a crazy old half-built acropalys type thing and some canons, and also went up to the top of Arthur's Seat, it's the main mountain thing in the middle of the city with awesome views. Freaking windy and cold though.
Got back to London and FINALLY got to go see Abbey Rd. It was a typically miserable London day and the place was deserted… Almost an anti-climax of sorts, but still glad to have seen it.
So as you do, I went and bought some Beatles merch from the nearby store… For a couple of small items I spent about $40, only to be a complete retard and leave it at my hostel when checking out not long after… Luckily they had the same merch at the airport, but damn it sucked.
Caught my flight over to Toronto and connected there to go to Quebec. Man I miss Canada when I'm not here. Quebec is way different to anywhere else in this country I have been but it has only made my view of the country even better. Like I said before, I think I have a new favourite city. This place is apparently the only fortified city north of Mexico. It's pretty cool, massive wall encircling the city, old barracks and castle-type buildings. The atmosphere here is awesome. Street performers all over the place, cool little backstreets with hidden things all over the place.
Weather here has been amazing, turns out I chose a good time to come since apparently it's been dodgy weather most of the summer (one of the worst summers here in years, so I've been told!). Anyway I think I'll leave it here and with a couple of pictures. Will head to Montreal tomorrow and then Toronto around the 31st.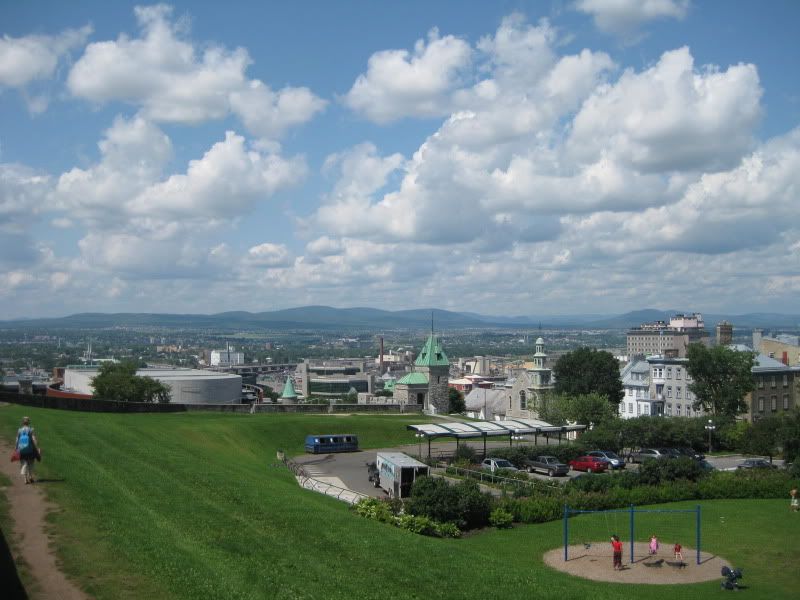 Written on July 28, 2009