Warped Tour and other such stuff
Kinda feel like I've been hit by a truck at the moment. Head is congested as anything and my nose won't stop running so I'm currently dosing up on cold and flu tablets.
It has probably been brought on by the long and ridiculously hot days here in Denver but I've been having a pretty good time. Warped Tour was good fun, mid afternoon showers helped to cool the day down a bit, and the whole show wound up by about 8pm or so. Don't think I could have held out much longer anyway, even if I tried.
Bands I saw:
Fake Problems
Parkway Drive
Anti-Flag
Reel Big Fish
Andrew WK
Dillinger Escape Plan
Terrible Things
Of Mice And Men
Far From Finished
The Casualties
Suicide Silence
Set Your Goals
The Jukebox Romantics
Riverboat Gamblers
Dropkick Murphys
Alkaline Trio
Face To Face
Pennywise
Every Time I Die
Highlights included ETID covering Tourettes (Nirvana) and Bill Stevenson doing backup vocals on Pennwise's 'Society'.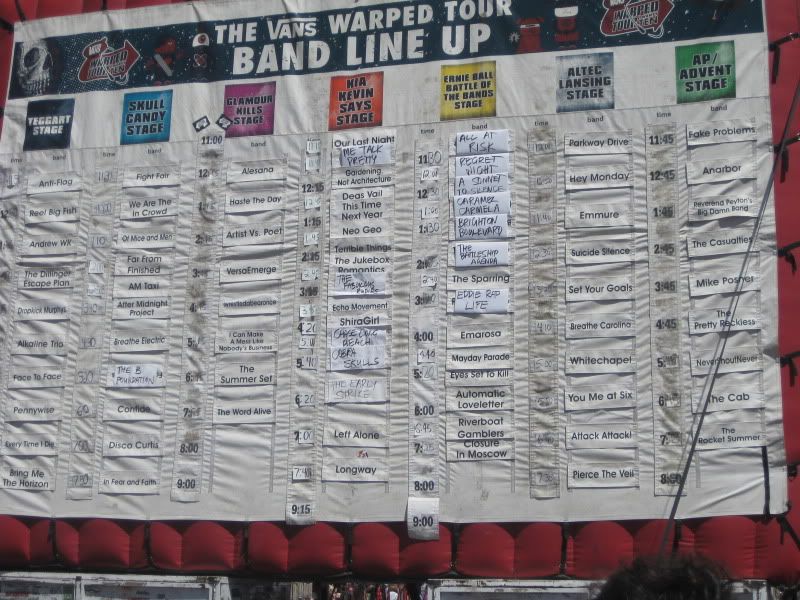 Also learned Chuck Ragan was doing a set later that night at Only Thunder's farewell show. $8, I couldn't argue with that… The first 2 bands were pretty lame, Chuck was decent (and even brought Tim from Rise Against out to sing on one song). I wanted to see Only Thunder but it was already midnight by the time Chuck finished and as I mentioned I've been feeling pretty dodgy.
Leaving for Albuquerque tonight, going to be in the deep south for the best part of the next week or so. But for now I'm about to go to the movies to kill some time (I have 5.5 hours before the bus leaves). Here's one last picture of Denver:
Written on August 9, 2010