Mulva?
Loads has happened in the past week since the last proper entry. I've been to (or through) Calgary 5 times, up to Edmonton, to Regina, to the badlands in Drumheller to see some sweet fossils, been snowed on, had consistent highs of around 7°C, had some little shit in Regina try to roll me and seen a bunch of sweet bands.
But to start from the top, I went on a brief 3-day trip through Calgary and Edmonton to catch the Through The Noise tour, featuring Comeback Kid, Madball, A Wilhelm Scream, Living With Lions and Devil in Me. Those were pretty good shows, enjoyed them quite a bit, then I went and also saw Pennywise, Riverboat Gamblers and Authority Zero in Edmonton and I can confirm Pennywise fans are all the same all over the world. Man they are annoying.
So Edmonton, honestly I think I could live quiet contently never, ever going there again in my life. You know, the mall was pretty cool the first time I went, and even the second it was still impressive… upon the third and fourth visits in the last 2 weeks, it's gone from being "cool, there's a stupidly big mall with theme parks in Edmonton" to "Edmonton mall reminds me of a giant Burwood Plaza, old and boring… what else is there to do in Edmonton? Nothing? Rad."
So I came back to Canmore in time to synch up with Bee's days off so we decided to head to Drumheller. I should preface the Drumheller story with one of the most nail-biting drives I've ever made. So we leave Canmore with half a tank. Not exactly sure how far it was to Drumheller, but we figured by the time it started getting low we'd find a gas station pretty easy. Turns out we forgot about petrol until it did get really low. In the middle of nowhere (a good hour and a half from Calgary, and 70-odd km's to Drumheller). We turned down this long road to head towards a town that we saw signposted… Drove and drove and drove. Until we realised the four houses we passed on that rural road was the 'town'. No luck there. Long story short we couldn't do much but keep driving and hope for the best. Ended up finding a gas station while driving on fumes. Crisis averted.
I should also mention it was a grey and stormy day. The skies were angry that day, my friend, like an old man trying to return soup to a deli. That's when we encountered the unpaved road from hell. Dirt road that went on for miles. Potholes galore, boggy and wet. While there are loads of 4×4's driving along with ease, here we are in our rusty, tired-looking 21 year old Honda sedan. Also, each passing car and truck would so lovingly spray our windshield with dirt. Middle of nowhere, dodgy car, dodgy-as road in horrible conditions. Yep, this ride was gonna be interesting.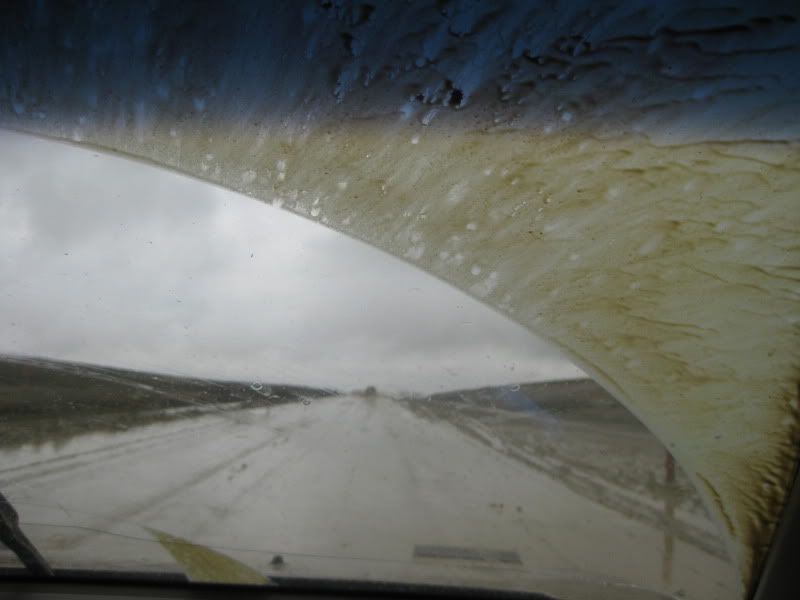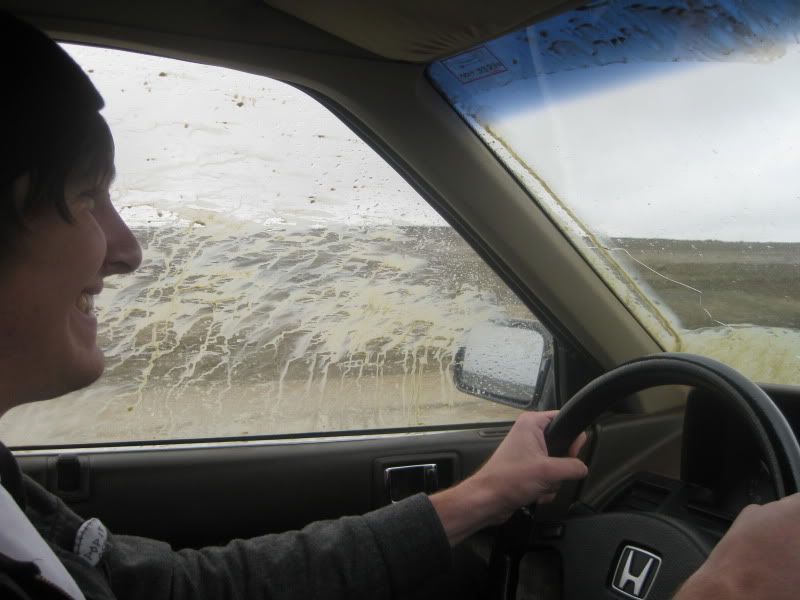 Drumheller is famous for being the area with the most concentrated dinosaur fossil finds in North America, and they have a wicked fossil museum to prove it. The whole town is dinosaur crazy, there are dinosaur statues and sculptures EVERYWHERE.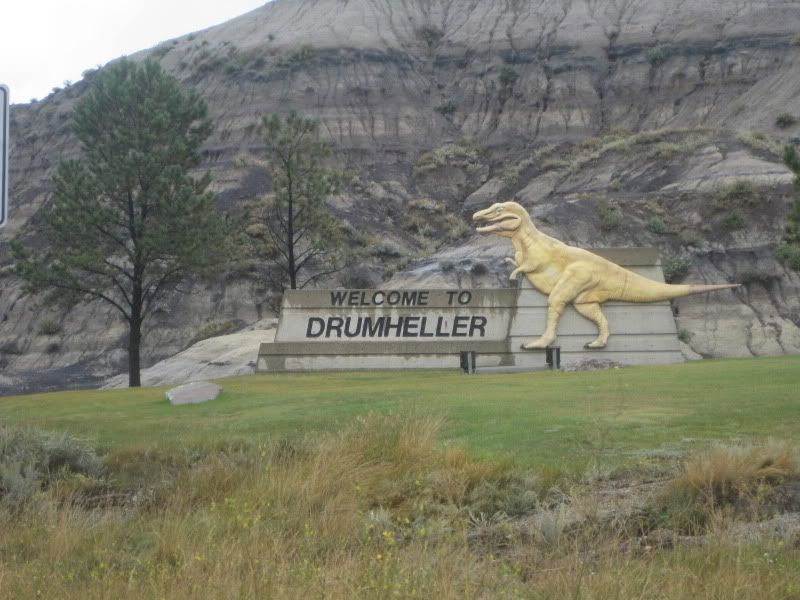 The town is also in what they call the badlands, which is sorta like a mini canyon/gorge type thing in the middle of the prairies. You can kind of see it in the photo above, where the land just drops, and the hillsides are left exposed. Real rough terrain.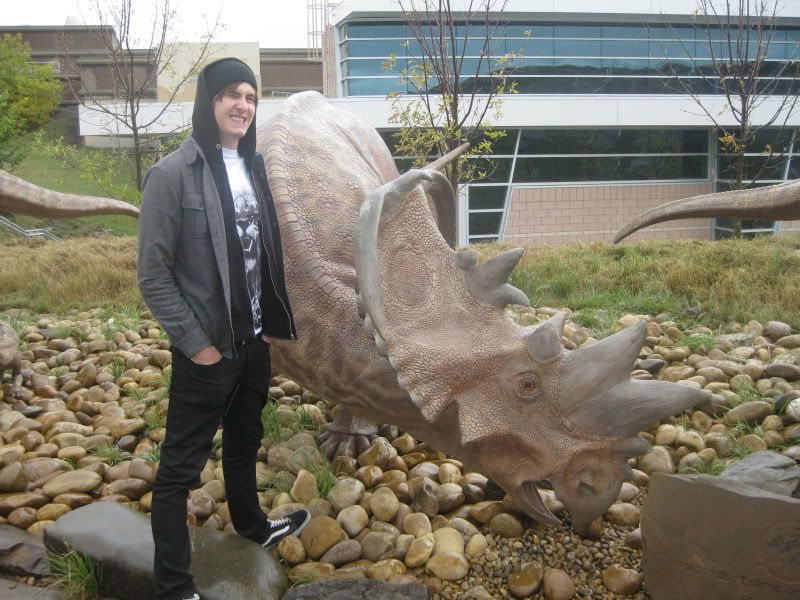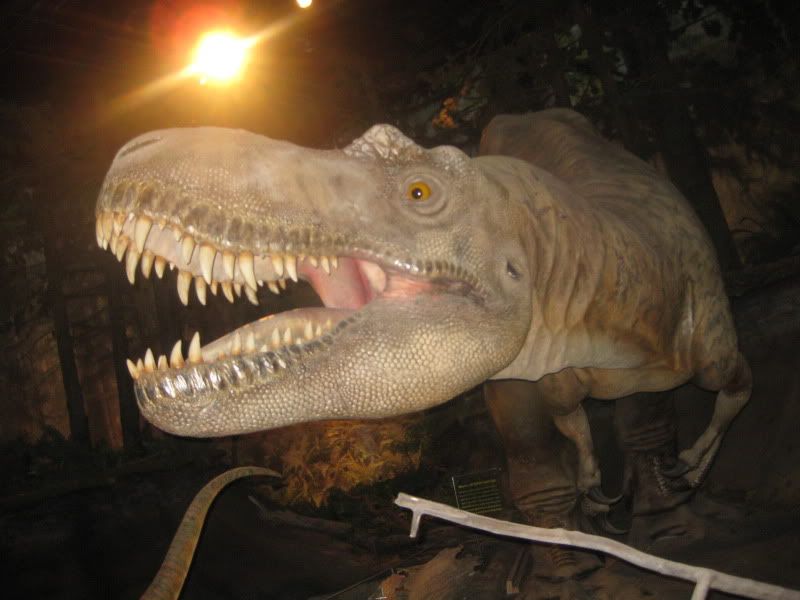 The Tyrell Museum is where it's all at. It has a huge collection of fossils, a small exhibit on Darwin, even some fossils of stuff like Neanderthal man and Wooly Mammoths. It's also a research facility, so you get to watch palaeontologists perform the most badass profession in the world.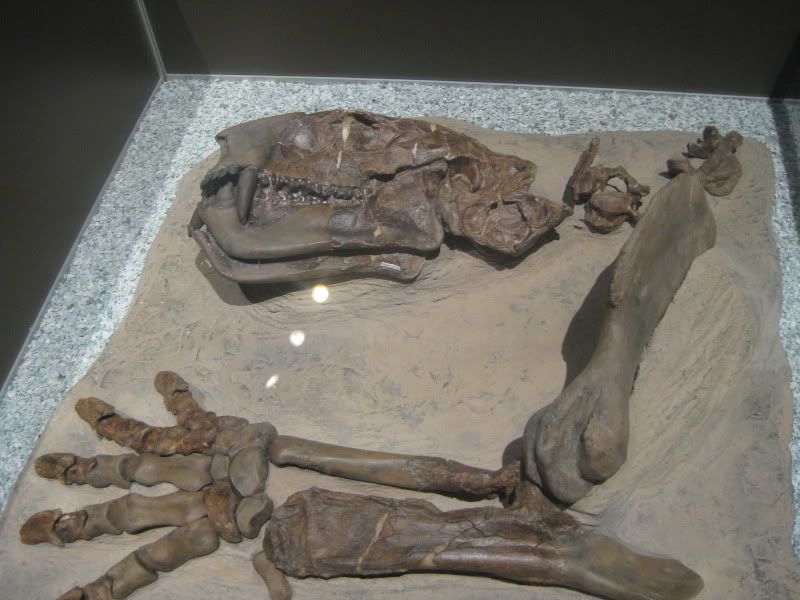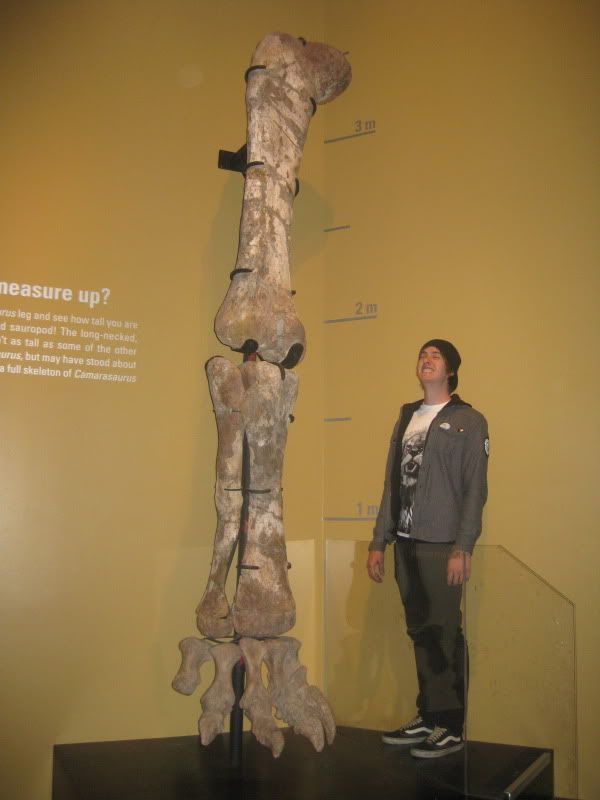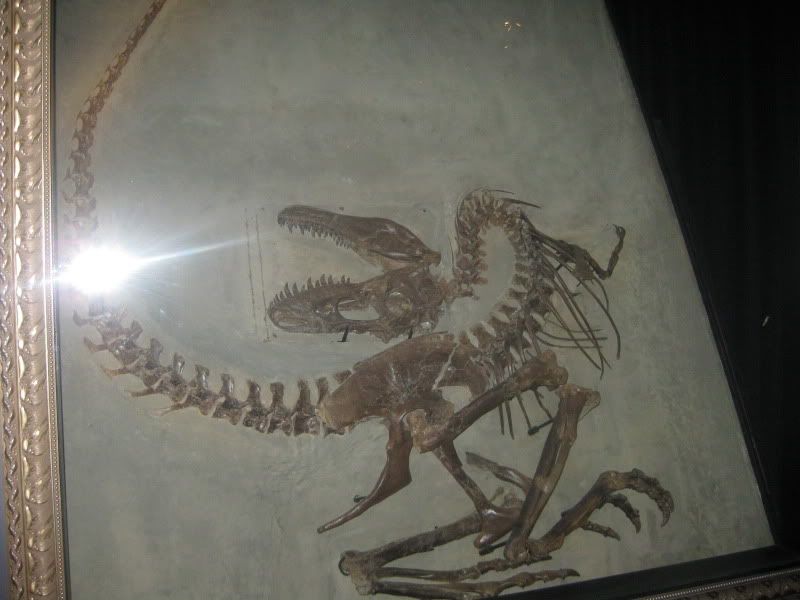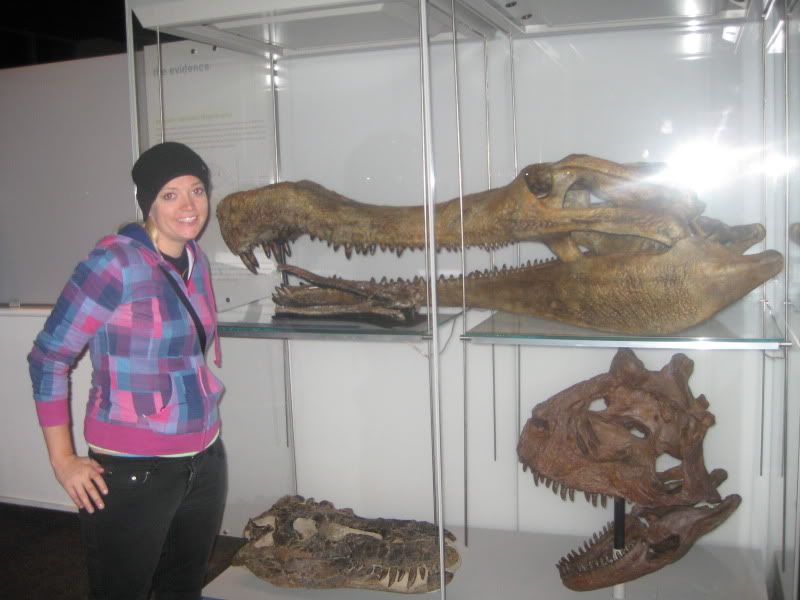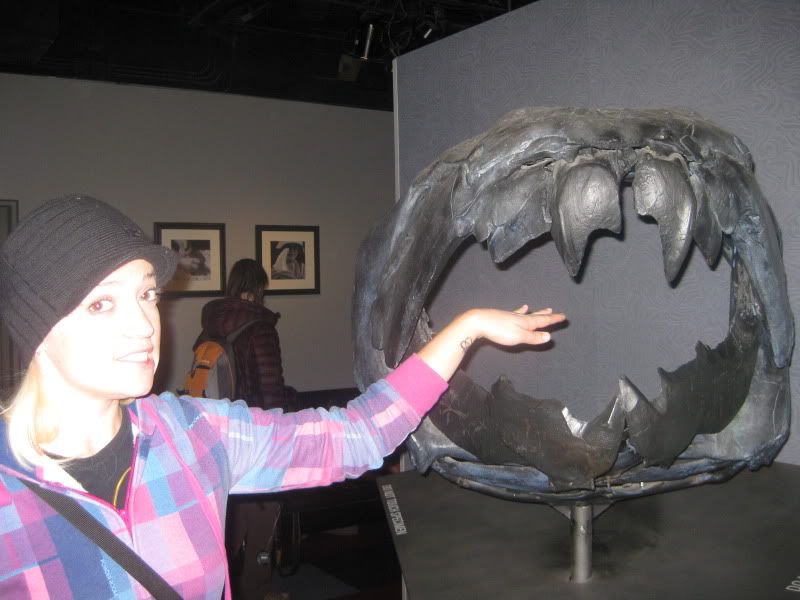 Now here's the world's biggest dinosaur, in Drumheller. If you look close, you might be able to see me. This is where the photos in the post below were taken: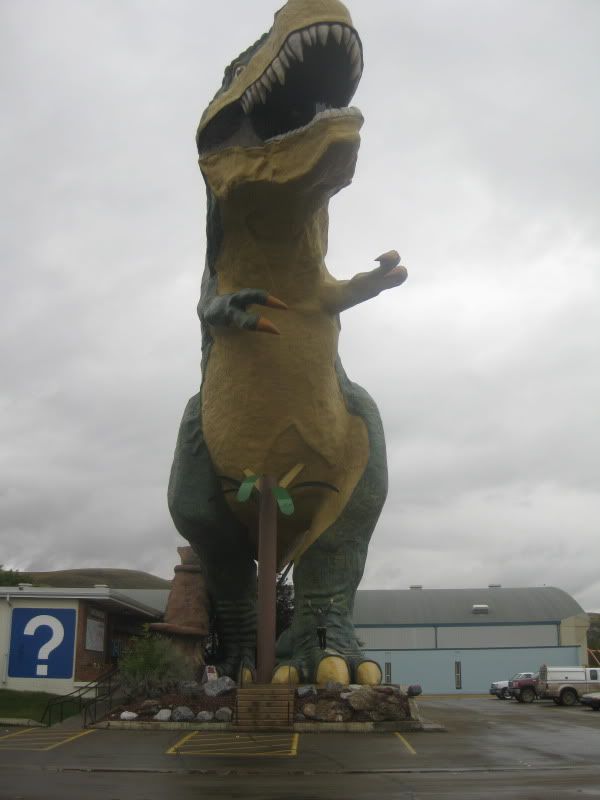 We managed to find an alternate route home, and made it back in one piece. We also had Taco Bell for dinner. BEST EVER.
Now to a new story. Armed with my Greyhound Discovery Pass, I went on a quest to a place in central Canada called Regina. The pronunciation of the city's name has me thinking of the Junior Mint epiosde of seinfeld:
Jerry: Yeah. What about you? Did people make fun of your name?

Woman: Are you kidding? They were merciless! What do you expect when your name rhymes with a part of the female anatomy?
Anyway, as I do with a lot of places I visit, I used a gig as my excuse to go TWELVE FREAKING HOURS out of my way to the middle of nowhere. I didn't know much about the place, but if I was ever going to bother visiting then now would be the time. I went and saw Against Me and The Flatliners who were both decent as usual, but the highlight was Young Livers who were really really good. Reminded me a little of the Bronx/Glass & Ashes. So the show was good, but Regina itself was a little dull. In fact the most 'notable' thing was when some creepy-as-all-hell girl was seemingly trying to rob me. I had just tried to use an ATM in a mall when I realised it didn't accept Visa, so I cancelled the transaction and started walking off to find another. That's when this girl, late teens approached me. At first I thought she was just a little 'special', she had a lazy eye and was asking if I'd like to hang out or share a smoke. I declined to both. So I started walking away and she tells me she's going to follow me around anyway, "stalk" me (her words). I keep walking. She then asks, "can I put my hands in your pockets…  so I can jack you" [ie. steal my wallet, etc]. That's when I really started getting creeped out. I started walking towards a booth in the mall to get security or something, then she ditched me and buggered off… It was way creepy.
Later on as I was about to leave the mall I saw her hanging out with some way seedy dude, so I'm pretty sure the intent was to get me outside where said dude would then proceed to do the muscle work. Great experience there, Regina. Anyways, I managed to avoid them and get away fine, but damn, such a weird experience.
So that's where we are up to.
I think I'm leaving Canmore tomorrow to head toward Vancouver, probably stopping somewhere along the way to try and get some more use out of this Greyhound pass.
Laters
Written on September 19, 2010